« Fame and Fortune | Main | Aloha! Back from Hawaii »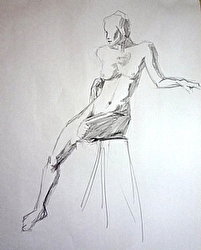 Figure Drawing
In previous posts, I have talked about the importance of drawing to improve your painting and thought that I would again mention how wonderful it its to go to a life figure drawing group. This exercise is invaluable in teaching proportion, improving observation, handling perspective and understanding shape relationships. I have been absent for a while from my Tuesday group but recently decided to make an attempt. I struggled until the final pose. I realized that I was not drawing with straight lines but instead was attempting to render the curves, well, with curves. I know it sounds counter intuitive but as soon as I switched my thinking to straight lines, my drawing improved dramatically.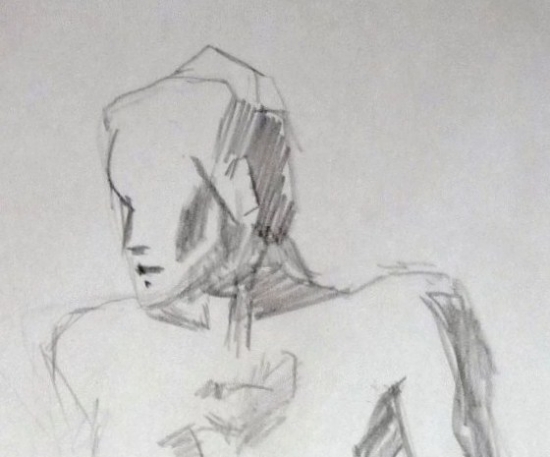 Here is a closeup of the head and shoulders where you can easily see the angles I used to draw this figure. I don't understand the science behind this but I think that the eye exaggerates the curves and softens the sharp edges. Even when a point is apparent where the angles meet, the eye still rounds that point into a curve. The figure looks a lot better and more accurate with these angles than with curved lines. The use of straight lines to make curves is one of the principles of academic art and should be taught in every first year art class. This method is also transferable to your painting as well. The use of angles and straight lines will always render the subject more accurately than the use of curved lines. Try it and see what you think.
Topics:
Drawing Class
Related Posts:
Comments
2 Responses to Drawing the Figure Improves Your Painting
KCooper
via sharonweaver.com20 months ago
Sharon,

It is SO true. Both on the life drawing and the drawing with straight lines. I,too,find it weird that it is so easy to accidently slip away from the straight line drawing, and run amuck with, as you said, "rendering the curves with curves".

I just walked in the door from being at one of my life drawing groups, where sadly, our model was a no-show. Aaach. We painted a still life instead, not very successfully on my part. Sigh. Time to get out the "big shapes" rule book.

And btw, thanks for excellent explanatory photos!
Sharon Weaver
via sharonweaver.com20 months ago
Thanks for the confirming comments. As I take on new problems it can be easy to let the old ones I know slide. I am constantly going back to the same lessons over and over. Two steps forward and one back. Still life is my least liked subject to paint. It is easy to become overwhelmed with all those small things. My trick is to take off my glasses so I don't have to remember to squint. Paint the shape not the thing.
* indicates a required field