« Karl Dempwolf Demonstration: After the Break | Main | How Drawing Improves Your Paintings »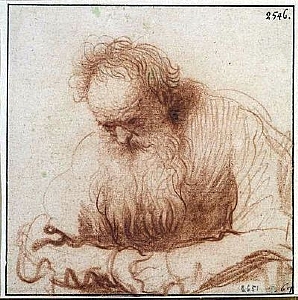 The mastery of Rembrandt is apparent in all his works, but the exhibit Drawings by Rembrandt and his Pupils at the Getty Museum, is an insiders look into how he thinks. It is only there until the end of February so if you haven't gone, you must.













Drawings by Rembrandt


In this exhibit the master shows his pupils how to draw. Rembrandt is known for his portraits using dramatic lighting (see above Rembrandt painting); a face appears from the dark depths of the canvas but in his sketches, he uses the opposite effect. I was struck by how little Rembrandt used shadow to convey the form. His drawings are a study in restraint with the light area dominating. It is not so much what he draws but what he leaves out. His line is expressive, varied, and kept to a minimum. The shadows are rendered only where needed, with little excess and no confusion.

Look at the sketches of the old man. Both leave his forehead light with only a thin line to separate it from the paper. The beard is defined, not by shadow but by subtle lines. The darkest area is where the neck meets the head, but it is restrained and minimal. With only a few lines, Rembrandt captures the expression of the old man.

The angel is another amazing drawing. The movement is achieved with line alone and the skill of the perspective is effortless. In the wash drawing of the woman, note the successful drapery. It is rendered with just a few key strokes.

I can only marvel at the amazing skill and talent. Practice is the only way to achieve this freedom of application. In my Tuesday sketching class, I will attempt to apply the lessons of Rembrandt.

Drawing by Sharon Weaver
Topics:
Drawing Class
Related Posts:
Comments