Steps to the Stars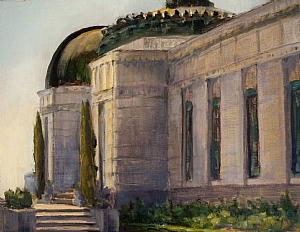 Medium: Oil on Panel
Size: 11 x 14
Price: $700.00 USD
Availability: Sold

Click to zoom in
Contact the artist about this artwork
Gallery Info
LA GALERIA GITANA
818-898-7708
Artist Comments
Griffith Observatory
Instead of the usual straight on view, I wanted to find a different angle when I painted Griffith Observatory. I loved the interesting perspective of this angle that included the sunlit steps leading up into the front entrance.
The original painting sold but you can buy prints of this painting in a variety of sizes, on paper or canvas, and framed or unframed at Sharon Weaver Fine Art America.