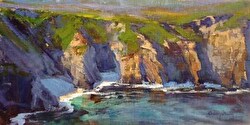 Ocean Cove 8x16 Oil on Panel
Carmel and Los Gatos are now behind me. The stress of painting on demand, under unknown conditions, in strange locations can take a toll both mentally and physically, but I have now fully recovered from my recent plein air events. Unlike last year when both trips included rainy and foggy conditions, this year the weather was ideal, so I challenged myself by painting other than my usual subject matter and learned a lot from the experience.
With sunny skies and wonderful weather, I explored the area south of Carmel, driving along the Garapata coast. The experience proved to be a wonderful resource of extraordinary beauty and I took my inspiration from the rocky coast and hidden coves that were carved into the shoreline. Two paintings, Ocean Cove and Shell Beach were painted at the same location, one in the morning and the other in the afternoon, illustrating how the time of day will drastically alter the colors of a scene.
Ocean Cove (above) captures the sun coming over the mountains casting clear, strong shadows. The quality of the morning light was yellow and that was reflected in the cliffs and green vegetation. The ocean water also reflected that yellow turning the ocean turquoise. Even the shadows were influenced by the morning light and were very blue.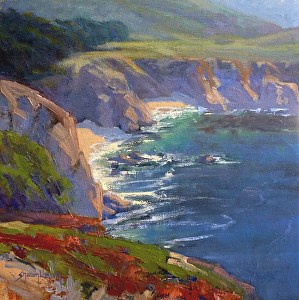 Shell Beach 12x12 Oil on Linen Panel
After a late lunch, I moved to a different vantage point of the same area and painted Shell Beach. As the afternoon progressed, I could see the entire palette change from the morning yellow light into an afternoon red light. I saw the cliffs take on a peach cast and the shadows turn from blue to purple. The water also reflected the red by turning from turquoise to a deep blue.
The different color themes are an example of how the time of day affects every color in your palette. Even the same scene will look drastically different because of the light change. Realizing these subtle changes in light will help to make every painting unique to the moment, not a preestablished formula.
Comment on or Share this Article →