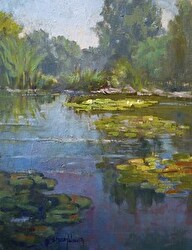 Lily Pond Afternoon showing at Art and Antique on Lake 16x20
While many areas of the arts are suffering because of the economic downturn, the Los Angeles Times reports that museum attendance is way up. That is reason to celebrate for all artists. The Art Newspaper stated that for the first time LACMA attendance in 2011 broke the one million mark. It also said that LACMA has approximately doubled its attendance from five years ago. The Art Newspaper also went on to say that when it started the annual survey in 1996, about 4 million people went to the top 10 shows and in 2011, that increased to almost 6 million.
Now you may be asking, why should I care how many people go to museums? I believe that the more interested the public is regarding art the more likely they are to want to acquire art and that can translate into more sales to more people. Learning about art becomes the first step for every collector, so I see all those museum goers as potential future collectors. Anyone who loves art can become a collector, regardless of income or knowledge.
But how do you take the step from art lover to art collector?
1) Don't be intimidated by the galleries and dealers. They are there to help you find something you love.
2) Don't dismiss your finances and assume you just don't have enough to buy. There are all levels of art prices from a hundred to hundreds of thousands and everything in between. Also many galleries and artists will accept lay away so you can have the flexibility of paying over time. If you are interested in putting one of my original painting on lay away please Contact Sharon Weaver.
3) Discover what you love. There's only one way to do that: look, look, look. Go to museums, notice the art in other people's homes, drop in at galleries, look at magazines.
4) See how it looks in your home before you make your final decision. Many galleries offer the collector the opportunity to take the piece on approval. I have a Satisfaction Guarantee for my paintings listed on my website page, Buying, Shipping and Guarantee.
The cross over from appreciating art to art collector is something that everyone can do. Have fun and start collection art you love.

Comment on or Share this Article →