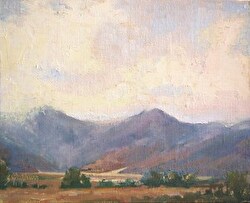 Melting Fog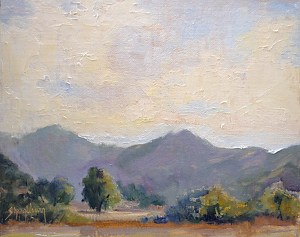 Melting Fog 8x10 Oil on Panel
I recently critiqued a painting by a friend who had made a classic design mistake. I call it "The Lone Tree Syndrome." Most artists will fall into this crafty trap since the "lone tree" looks good in its native environment. But when taken out of nature and translated to canvas, yikes!; not so good.
As an artists it is our job to design our paintings, not just paint what we see, so watch out for the lone tree by eliminating the symptoms and group trees together, add shrubs or change the layout. A picture is worth a thousand words so I have provided you with a painting suffering from "the Lone Tree Syndrome."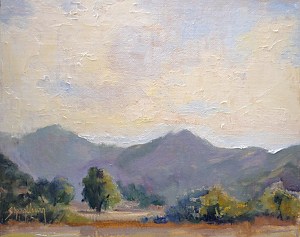 The Lone Tree Syndrome
Here is what I did to cure the painting of its problems. I liked the sky but recognized that I needed to rethink the perspective by pushing the trees back and connecting the dark areas. With this done the eye passes over the foreground and you are taken into the painting. I added some highlights at the base of the mountains again to create depth. I was amazed at how the painting opened up giving the mountains the majesty I remembered. I also softened some of the edges and brought the fog onto the peaks.
We are creatures of habit and we can't help but make the same mistakes over and over again but by pointing out some of the more obvious design traps I hope I will be able to inspire you to change.
Comment on or Share this Article →