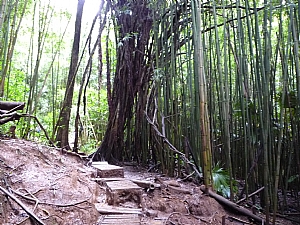 I thought I would enter one more post about my trip to Hawaii. The week included several wonderful, but muddy, hikes. We were warned that the trails were wet and muddy so we prepared before heading for Mauna Wili Falls, or so we thought.
This summer, the west has been unusually cool and wet. My theory is that the earthquake and tsunami in Japan belched up a ton of frigid water from the depths of the ocean and all that cold water has effected our weather this summer. I have mentioned this to several people and their reaction has run the spectrum from, "You're crazy" to "that sounds logical." What do you think? Could the earthquake in Japan have an effect on the weather on the west coast?
Whatever the reason, the dry season in Hawaii is seeing lots of rain and you can see how muddy it is in the top photo. The trail at this particular part was raised on wood steps but most of the way we were down in the mud. Hiking out from the falls was even worse since it rained while we were swimming. Our sneakers turned into mud pies on the bottom with layers of encrusted slim. Mud on mud makes every step through the tree roots, rocks and mud a potential slide into the muck. I had several close calls as I grabbed nearby trees and boulders to stop an undignified plop into the mud but both Jeff and I made the hike into and out of the falls unscathed.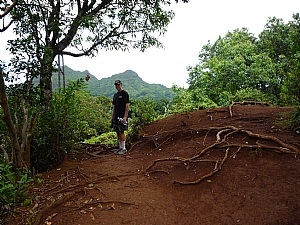 Jeff, my husband at a dry patch in the trail
What we thought would take a few hours had turned into just under four hours of intense hiking with us having to watch every step. By the time I got back to the car I was exhausted and starving for lunch.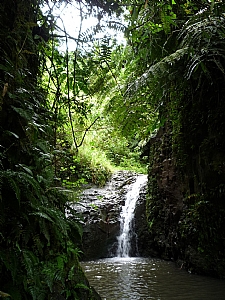 Mauna Wili Falls, The Payoff
I did take a dip in the pool at the base of the falls but the water was freezing and several of the other hikers didn't venture into the water. Another adventure accomplished but I don't think I'll try it again unless the trail is dry.
Comment on or Share this Article →