Afternoon Clearing
I recently got an email from an artist in Belgium, that is Martine in the red parka below, who has started a plein air group. This got me thinking how wonderful it is that I live where I can paint outside all year round. It pains me to admit that I haven't been plein air painting since the Los Gatos Plein Air Exhibition earlier this month and I am really overdue. I love being outside, seeing the lovely scenery, talking with other artists and the thrill of a new creation and after seeing photos of the amazing scenery around Brugge I am even more inspired to get out there.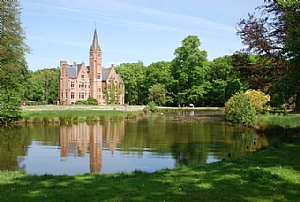 Plein Air in Belgium
I haven't been able to go because I have been working on several studio pieces but even when working at home I will roll my easel out onto the back porch to paint. Luckily I have this option since my studio is tiny, dark and hot. The porch is covered and faces north so the lighting is wonderful. With the longest day of the year just behind us, I will often paint out there from 9 to 6 and then only stop because I just can't keep standing anymore. I know some artists who sit when they paint but I have to stand. I am always moving around the painting, stepping back, comparing shapes, checking perspective.
This practice of roaming around my canvas can cause problems. One specific time comes to mind. I was painting on a jetty and became so caught up in the moment that all I was thinking of was the painting. I stepped back to take a better look at my creation, when the person next to me grabbed my arm. I had backed up to the very edge of the walkway and would have fallen four feet to the rocks below with one more step. Scared the heck out of me. For this reason, whenever I am painting outside I make sure I have some space behind me to step back or always have a friend nearby to grab me. So get up and get outside to paint. Find a group to paint with or like my blog pal in Belgium form your own plein air group.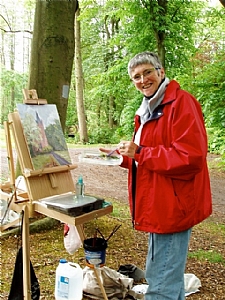 Martine Painting Plein Air
Comment on or Share this Article →