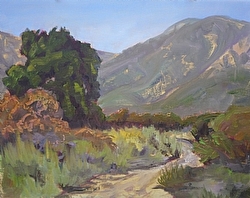 Curves Ahead (SOLD)
I have tried to paint in the rain before but have found that once the canvas gets wet the paint will not stick to the it, so today with the rain in Los Gatos I wasn't very motivated to paint. I know some artists will paint under the back of their SUV, but I have a regular old car. I would like to paint indoors but I am not familiar with Los Gatos so I don't know where to go.
I procrastinated as much as I could until after lunch and drove up into the hills where there are wonderful old Victorian homes. I set up my easel so I could sit in the car. I hate to paint sitting so this was a last resort but at least I was out of the rain and with an umbrella so was my easel. I had found a road with a lovely row of eucalyptus trees that I thought would work even with the moody lighting. The painting came out OK but during my struggles, one of the local home owners came out to see what I was up to and we talked a bit. She looked through the paintings I had brought with me and picked one, "Curves Ahead" and decided to buy it. Thank you Alison and Parvez for starting my trip with a bang and making a very challenging day end on a high note.
There are several lessons to learn from this experience.
*Always take a box of available paintings where ever you go. If someone wants to take a look you have them with you.
*Be open to talking to people when you are out painting. You never know when the opportunity will present itself to make a sale and meet a new client.
Comment on or Share this Article →