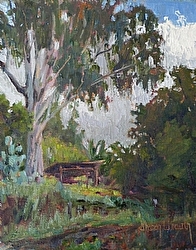 Storm Watch Below Mount Wilson

I had an epiphany last week while plein air painting with my Thursday group. As I was painting Storm Watch Below Mount Wilson this is what happened.

I was expecting a stormy day since the weatherman predicted rain in the afternoon. Looking for a spot to paint, I saw the interesting negative shapes between the eucalyptus, shrubs and shed and knew I had found my subject. I was painting a tree on a hill. Right? Well that's what I thought too. But happenstance would change that.

The entire sky was a water saturated dark gray most of the morning, but suddenly a strong gust off cold wind separated the clouds to reveal a hole of the bluest sky at the edge of the tree. I didn't think, I just reacted. Scrambling to capture the changed scene, I scooped up some Cobalt Blue and Titanium White on my palette knife and threw it on the top right corner of the canvas. Then, I lightened the cloud just underneath the sky with White. I couldn't go back to refine the shapes since there was wet gray paint underneath. To keep the clean, crisp look, I would have to leave the palette knife application as is.

After my frantic painting, I stepped back and realized that the painting had been transformed. Unplanned and unforseen, the painting was no longer about the tree, it was about the storm. With just a few strokes, the storm emerged and the tree became an observer, only watching the drama unfold.

What I learned that day is to be open to change. I allowed myself to be flexible and experienced a shift in perspective. Even after working hours to see it one way, only a minute revised my idea. If I had not been open to the whims of chance, Storm Watch Below Mount Wilson would not be as successful.
Comment on or Share this Article →