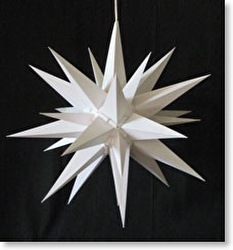 Moravian Star
I may be prejudice, since I am Moravian, but I think the Moravian Star is the most beautiful star ever invented. Every holiday in Los Angeles, I take out my Moravian Star for display in my livingroom. My recent trip to Bethlehem, PA (Christmas City, USA) had me thinking about my origins.
Few people have heard of the Moravians. They are a small but important group who were some of the earliest Protestants, rebelling against the authority of Rome more than a hundred years before Martin Luther in England. Jan Hus, founder of the Moravian Church, was burned at the stake for heresy against the Catholic Church. One unusual and shocking belief was the group's focus on universal education. By the middle of the 16th century there was not a single town without a Protestant school in the Czech lands, and many had more than one, mostly with two to six teachers each. In Jihlava, a principal Protestant center in Moravia, there were six schools: two Czech, two German, a Latin school and even one for girls.
The Moravian Star was invented in December 1820 by Christian Madsen at the Brethren House, a boys boarding school, in Niesky, Germany. The original star had 110 points and was used as decoration in January of 1821 for the fiftieth anniversary celebration of the school. The star was then used to demonstrate geometry lessons in Moravian schools but was eventually adopted by the Moravian Church as a symbol of the star of Bethlehem. Over the years, many innovations in the style, size and color of the star have been created. Today Moravian stars can have from six to over 100 points but the most widely used has 26. From lighted to unlighted, large to small, white to red, paper to glass, the Moravian star continues to represent the holiday season for everyone.
Don't you think inventing a new star is pretty amazing? If you would like to have a Moravian Star you can find them on Ebay but the best selection is from the Moravian Book Store. Happy Holidays and may this season bring you joy.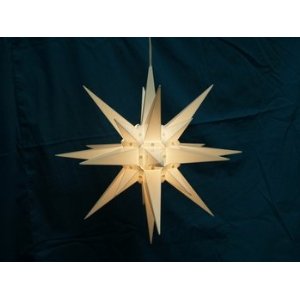 Comment on or Share this Article →