Recently there was a discussion online asking if an artist should know how to draw. The flood of comments ran the spectrum from a definitely yes to an emphatic no. They argue art is a concept not a method. It started me thinking of the long road that art has traveled from cave paintings to computer generated designs. How diverse it all is. At first, I defended the more traditional art and thought, "Yes an artist should know how to draw," but I started to think about some of the less traditional artists who have influenced me and realized drawing was not that important in their work.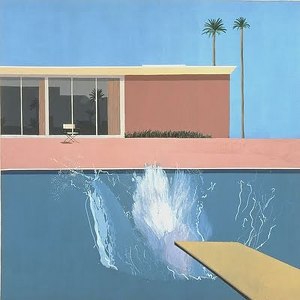 A Bigger Splash by David Hockney
British born artist David Hockney's work emphasizes concept over traditional drawing skills. I remember first seeing his work while living in New York City. His linear swimming pool paintings seemed to epitomized the Southern California lifestyle. I loved the simplicity and vibrant colors of the pool series which Hockney painted while living in Los Angeles using acrylic paint. The stylized water patterns, the idea of private swimming pools (not the norm in the Northeast) and the modern buildings in the background all added to the exotic nature of the paintings. I thought they were wonderful.
David Hockney also worked with photography, constructing photocollage. Using massive numbers of small Polaroid snaps or photolab-prints of a single subject Hockney arranged a patchwork of photos to make a composite image. The photographs were taken from different perspectives and at slightly different times with the resulting image being slightly off. My favorite of this series is a landscape, Pearblossom Highway #2.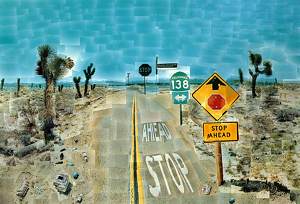 Pearblossom Highway #2 by David Hockney
These works show how concept can trump technical skill. I realize that there isn't just one simple answer when approaching art. What makes my paintings work for me, may not be what another artist finds successful for them. Regardless of how an artist approaches their work, they deserve my consideration, respect and to keep an open mind.

Comment on or Share this Article →