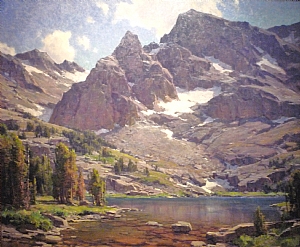 Clyde Aspevig is one of my favorite landscape painters. His work is an amazing combination of color, texture and shapes. This weekend I went to see an exhibition of his work at the Santa Barbara Historical Museum. The power and beauty of the work far exceeded my expectations. I thought I would share a few of the images from the show and my thoughts on his work.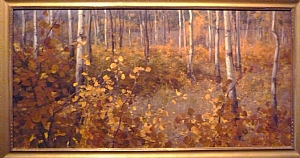 Walking into the gallery, I was immediately struck with the strength of the compositions. Every piece, whether an intimate scene or a large panorama, was engaging from across the room. They looked majestic but intimate; spontaneous but filled with detail.

As I approached the paintings I stopped at about 6 feet to I notice the changing colors. They were much more complicated, brighter more interesting than from far away. Colors emerged from neutral rocks; snow banks were not white after all, but lavender, pink and blue.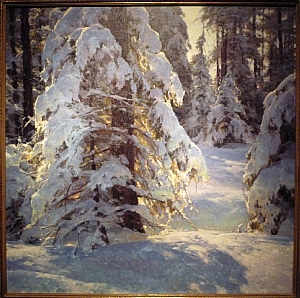 Walking in for a closer look, I was surprised by the bold brush strokes which where almost abstract in their application. The paint was irregular, very thick in some areas with texture and interest, while smooth in others. Each painting had three distinct impressions depending on where I was standing. I had to go back and study each one again and again to fully appreciate the skill with which each one was executed.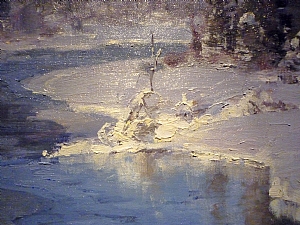 Detail of Snow
I had loved Aspevig's work from images I had seen in books. But I realize after seeing the show, a mere reproduction, no matter how wonderful, could never convey the many dimensions each one possessed in person. The real paintings are spectacular. I am truly inspired by what I saw.
Comment on or Share this Article →