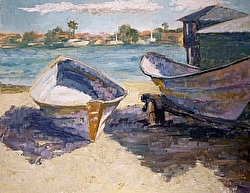 Beached in Long Beach by Sharon Weaver
It was a perfect day, the sun was warm, the sky clear from recent rains and the summer crowds were absent. I was intrigued by the shadows and the difficult perspective of these two boats. I thought the challenge would be fun and it proved to be inspirational. Even though the boats were a weathered white/blue, there was a lot of reflected light from the sand and I introduced complementary colors to highlight that glow.
For my tutorial on complementary colors,
click Transform Your Art With Color
.
Below is a detail of
Beached in Long Beach
, I was very aware of my brush strokes and applied thick paint for interest.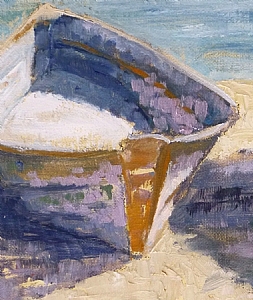 Detail of Beached in Long Beach
This is a great example for my second tutorial,
Make Art That Collectors Notice
. I go over the importance of engaging the buyer from three vantage points.
1) Getting attention from across the room
2) Heighten their interest at 4 feet away
3) Reveal the details up close
If you understand how a buyer sees your painting, you can evaluate your work and improve it with the collectors view in mind. For more click on
Make Art That Collectors Notice
.
Sign up to get this blog at the top left orange button. All my paintings are for sale just click
Sharon Weaver Fine Art
or the title. If you would like to get a monthly update, go to
Sharon's News
.
Comment on or Share this Article →