Sharon with Faded Door
The California Art Club reception was this last Saturday and it was a wonderful night filled with great art, friends, family, food, drink, and entertainment. I have been very excited about this reception since many of my friends also were juried into the show, titled Natural Beauty, at the Blinn House, which is home to the Women's City Club of Pasadena.
My good friends, Chuck and Beverly Turner, drove up from Orange County for the event, and Jeff, my husband's two sons came with their girlfriends. It was wonderful to have friends and family there to share the event.I knew many of the artists on display, including
Marian Fortunati
,
Patricia Franco
,
Laura Wambsgans
and
Karen Winters
. It seemed that every time I turned around there was a friend to congratulate. I also met several of the other artists as I was admiring their work.
The exhibition had many lovely pieces hung throughout the beautiful rooms of this prairie style mansion. The impressive setting, with its lovely leaded glass windows, balconies, window seats, tiled fireplace and carved staircase, really added to the quality of the event.
I felt the Jurors' Choices Awards were all well deserved, and offer my enthusiastic congratulations to everyone who was chosen to show their work. You can see all the paintings on the
California Art Club
's website.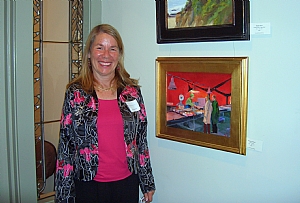 Marian Fortunati with Fresh Catch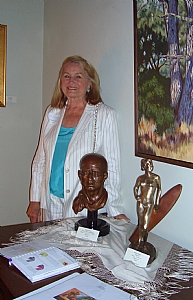 Pat Franco with Beauty is in the Eye of the Beholder and Golden Girl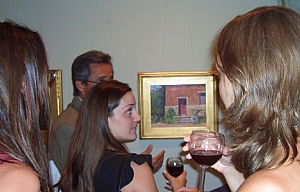 Art Lovers at the Exhibition

Comment on or Share this Article →