Karl's Demonstration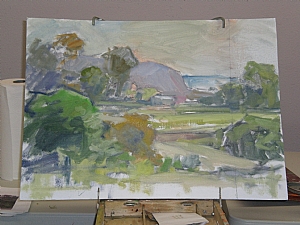 At the last plein air class I took from Karl Dempwolf this spring, everyone was wondering how to take those small studies and make them into larger works. We all agreed that it would be wonderful if someone would organize a workshop with Karl and have him demonstrate this part of the process.
I decided to take on that responsibility and on June 26, Karl took a group of 11 artists into his process and showed us how he makes his magic work. He brought with him several wonderful examples of his small studies, 6X8, and their larger counter parts. Karl also did a demo in the first half of the workshop illustrating how to block in the image and work out the values of the painting from the smaller study and photos.
The second half of the workshop we attempted our own enlargement. Karl dashed from one artist to the next giving us suggestions or helping with composition and value problems.
It was a great workshop with a lot of interaction not only with Karl but among all the artists in attendance. I want to thank everyone who participated in this great event. Everyone contributed and learned from Karl and each other.
Thanks to all the attending artists: Lynne Fearman, Paul Chamberlain, Lucy Chang, Maureen Stehle, Arlette Menard, Marian Fortunati, Dori Marler, Carol Ling, Georgia Jung and John Kafka.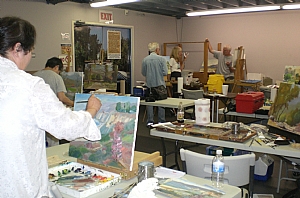 Comment on or Share this Article →