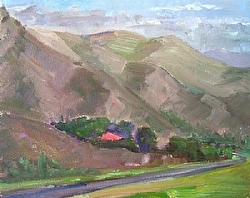 The Red Roof
I met a group of fellow artists in Canyon Country to paint at the College of the Canyon. The campus is under major construction, with newly planted trees and grasses.

We met at the amphitheater which overlooks the mountains to the west and in those mountains is the lovely ranch that I made the focus of my painting. This was an especially challenging spot to paint. Most of the shadows on the hills were eliminated because of the sun's direct light and the neutral shades of colors added to the difficulty. I decided that the neutral colors were part of what I liked about the scene and wanted to keep the hills soft to contrast against the green trees and red roof. The impression of an oasis among the hills was my goal. The storm clouds in the background sky also helped to reinforce the ranch as a safe haven.

The last touch was the road leading to our oasis and a field of yellow wild flowers to look across.


Comment on or Share this Article →