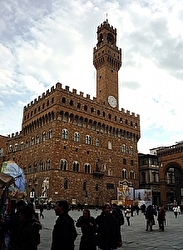 Piazza della Signoria





















































We had decided earlier in the week that we would make a day trip to Florence and we got up in time to see a beautiful sunrise. We arrived later than anticipated so we raced on foot to the Uffizi Gallery. It is a world famous museum with an abundance of recognizable works. The Birth of Venus is just one of the gallery's many jewels. I took the picture of the Ponte Vecchio (the famous bridge over the Arno River) from the second floor overlook.

After leaving the Uffizi, we took in the sights of the Piazza della Signoria and the Basilica di Santa Maria del Fiore, or Duomo of Florence. The adjacent bell tower (pictured above) and baptistery are also in the same striped facade of green, pink and white. It all gives the impression of an over the top wedding cake with way too much icing. The other odd thing is the interior of the Duomo holds nothing of interest except for the fresco that adorns the dome. It shows the last judgment with a 3o foot tall devil eating people with all three heads.

We did climb to the top of the dome, which was almost as harrowing as the tower in Siena. The best part was climbing the stairs that are in between the outer wall and the frescoes of the dome. It circles around and up the dome till reaching the center tower then there is a steep staircase to the very top. Another spectacular view.

Our next stop was at the Accademia Gallery. The genius that is Michelangelo shows in the incomplete statues on either side of the gallery as you approach the David. Each appears to be straining, to free itself from the marble. These figures give a wonderful insight into Michelangelo's process. At the far end is David, his back set too close to a niche so you can't step back and get a good view from all sides. Despite the inadequate space that is provided for this masterpiece, he stands with an overwhelming calm. The figure is relaxed in its fame and delivers.

We walked over the Arno River through the Ponte Vecchio, saw chalk drawings on the street, Jeff bought a briefcase and after a wonderful dinner, left Florence tired but happy that we had made the drive.
Comment on or Share this Article →