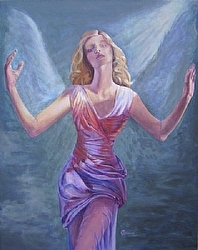 RENAISSANCE OF THE UNDEAD
Painting is "undead." At least that is what the Los Angeles Times article "Painting Gets a Broader Brush" by Christopher Knight declares. He goes on to state that painting was dead throughout the 1960's and 1970's and since then has progressively enjoyed a renewed interest and even prominence. As an art critic, Mr. Knight is interested in the path of art for art's sake, but most of us live in the real world and understand that art is not the world but a reflection of it. I believe there still is an underlying disregard for painting today that stems from a more recent phenomenon. Computers and their influence have altered art.
It doesn't take much research to realize how difficult it is to find art classes that feature classic figure drawing and painting. Computer classes, advanced imagery and conceptual installation art have taken over many schools. Demands for high tech courses have driven changes in the basics of what is taught as art. The hand of the artist has been replaced with a mouse. It is easier to manipulate images on your computer than it is to struggle with the same problems by hand. Painting, by comparison, becomes a quaint hobby for the unhip and out-of-touch.
It is not surprising that many express contempt for us mere painters. But take heart, painters, for that very fact is proof of painting's relevance. Throughout the history of art, it is the path less traveled and unaccepted that is the one most honored.
Galleries, museums, and critics again are taking notice of painters and their work. As Mr. Knight points out, "actual painting is a staple in gallery exhibitions from Santa Monica and Culver City to mid-Wilshire and Chinatown. And paintings made by L.A. artists are everywhere."
I am exhibiting my art in three locations until the end of December:
Two Dogs Gallery in North Hollywood, California
Lulu's Café in Sherman Oaks, California
Monsoon Gallery in Bethlehem, Pennsylvania
Comment on or Share this Article →