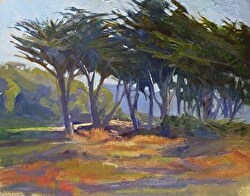 Standing Together 11x14 Oil
I took a forced leave from painting on Thanksgiving morning when I went to the emergency room and was in the hospital for 8 days. But before that nasty bit of business, I had a wonderful painting trip up north to Tomalas Bay. Along the way I stopped at Half Moon Bay to paint with two other artists. They took me to one of their favorite spots along the coast but I decided to look inland to paint the trees.
It occurs to me that as a landscape artist painting trees is a very big part of many paintings so if you paint landscapes you better love trees. I have studied trees, their shape, size and color; their leaves, trunks and branches. I have drawn trees, photographed hundreds of them and painted dozens. Every tree has a unique personality but in the frenzy of plein air painting it is easy to use a formula when painting trees. One way to avoid this is by painting the shapes that are not the tree. The sky around the tree and the sky holes are really the shapes that make each tree unique. I reversed the values on this notan so you can see what I mean.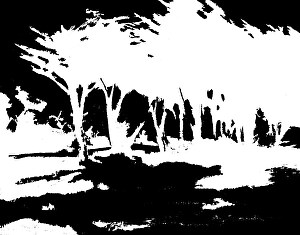 This is one of the ways I have trained myself to see shapes; not things. Although I paint trees all the time, reducing them to simple shapes really helps me to tackle even the most complicated composition.
Comment on or Share this Article →