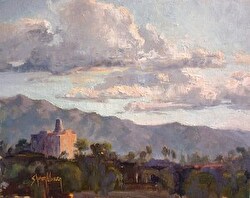 Above the Arroyo
We all have our pet peeves, things we would rather not have to deal with. Remember the scene in Raiders of the Lost Ark where they finally open the tomb and the floor is moving. Indian Jones rolls away from the entrance and says, "Snakes. Why'd it have to be snakes?"
Well, this morning I had to paint in my worst case scenario. Wind. Why'd it have to be wind? I can paint in the snow, the rain, when it is freezing at 12 degrees or in the sweltering heat with heat waves rising from the sidewalks. None of those environments can stop me from painting. But I can't take the wind. It isn't often that there are large billowy clouds in Southern California, so despite the cold wind, I painted a lot of information on the canvas before I finally packed up to leave. I managed to capture the morning light with good values, achieved a sampling of the local color and blocked in all the shapes. When I got home it was relatively easy to complete the painting in the comfort of my studio.
I apologize to the Thursday painting group for leaving before the critique at lunch but why jump into the snake pit when you don't have to. The group always comes up with wonderful locations to paint and this was no exception. The home where we painted is on the cliffs above the Arroyo Seco with views of the Pasadena City Hall and the Pasadena Bridge. It is a lovely sight with the San Gabriel Mountains in the background.
Comment on or Share this Article →