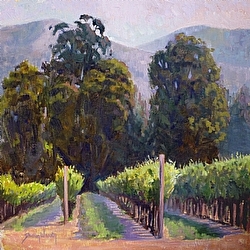 Vineyard Silhouette, 12x12, Oil
I recently got an email from an emerging artist asking me for advise on how I go about selling my artwork online. If only I knew the answer to that, I would do it more often. But the inquiry had me thinking about all the things I have attempted in the pursuit of sales. Some failed, some succeeded, some where a draw, but each one helped me better understand how to market my work. I didn't follow the traditional route by first establishing a local base of collectors. Instead, I entered competitions outside my area and traveled to plein air events, cutting my teeth on that demanding circuit. It was a swift learning curve with successes and failures.
My efforts have evolved and I have branched into other marketing areas. One of the most rewarding has been the recent cultivation of a local home base of collectors. This small but growing group is invaluable to me and I recommend every artist take another look at going local. I have found these connections have a cascading effect that feeds one on the other. The power of the community to spread the word is amazing.
The same can be said for my online activity but on a larger scale. My websites, blogs, newsletters and social media all help to position me and my work in front of more people. I view it as just an extension of my personal friends, another community that can have a much farther reach, but in the end is just another group of people connecting and helping each other.
Talking about going local, I have two receptions this Saturday, November 10th, 2012.
Whites Fine Art Gallery at 2414 Honolulu Avenue in Montrose, CA from 2 - 5 PM. I won Best of Show from the San Fernando Valley Art Club and the second reception is at the Santa Paula Art Museum, Art About Agriculture, at 117 North 10th Street in Santa Paula, CA from 4 - 6 PM.
Comment on or Share this Article →