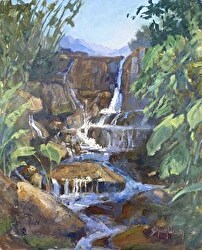 Waterfall at the Huntington 14x11 Oil Revised
There are many positive reasons to teach but improving your own art is rarely mentioned. From my last post you know I am learning from the classes I am teaching. It's a great side effect. I have been thinking about this development and realized that there are many reasons why through teaching, I too am learning.
1) I am rethinking things that I already know, clarifying many basic lessons. Teaching is a powerful tool for cementing your understanding of a subject.
2) I have to write my critiques so I have to translate my thought into real words that my students can understand. This farther clarifies my thoughts. Teaching forces me to communicate my thoughts clearly and precisely.
3) As I critique my students work, I am training my eye to be more observant of design flaws, value discrepancies and color problems. Teaching calls for a complete understanding of the concepts you are teaching.
4) With my improved vision, I can view my own work with a detached view and catch problems I didn't notice before.
5) I always try to find something positive in my students work so now I see the best aspects of my paintings and can enhance those positive areas with minor changes.
Maybe there is a way you to can teach too.
Comment on or Share this Article →