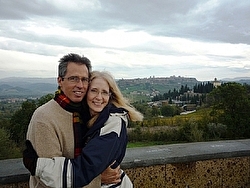 Jeff and Sharon with Orvieto in the Background































The last day we drove back to Rome. It is hard to believe it was two weeks ago that we arrived. We took one last detour and stopped at Orvieto again to really take in all the sights of this wonderful city. There are many Etruscan ruins nearby and the museum is filled with the remnants of that ancient civilization.

The Italian pottery called Majolica, is displayed in many of the shops for the tourists. All hand made and hand painted, the patterns are unique to the area and have a history as old as the relics in the museums. We bought a few pieces to bring back with us to remember our trip.

As we said our goodbyes to Italy, the suns reflection off the gold Duomo was a dramatic contrast to the blue sky and white clouds. Ciao.
Comment on or Share this Article →