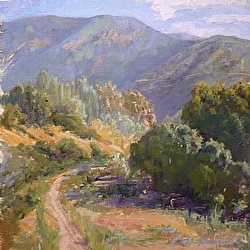 Trail to Echo Mountain, 12x12 (showing at Seven Degrees in Laguna)
Tomorrow I am taking the day to have some fun. I have a painting in the Laguna Plein Air Painters Association show, "Best of Plein Air" and I decided to combine the reception (June 7, 6PM to 9PM) with a painting excursion. Laguna Beach has been good to me in the past by providing inspiration for several of my larger works and the little plein air paintings I have done there are some of my favorites. The view from Heisler Park is great in every direction and deciding what to paint is the biggest problem.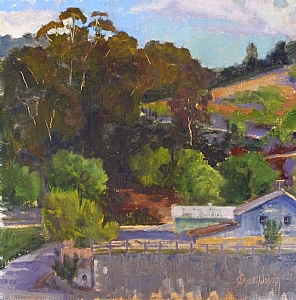 View From Donkey Hill, 12x12 (Painted at 2011 Los Gatos Plein Air)
Next week I am off to the 2012 Los Gatos Plein Air to paint all the local color. Victorian mansions, lakes, wineries and the ocean are only some of the many attractions the artists will be interpreting. The locals turn out in a big way to support this charity sponsored by the Rotary Club. While I am gone I hope you enjoy your summer and I will be posting again on a regular schedule after my return.
Comment on or Share this Article →