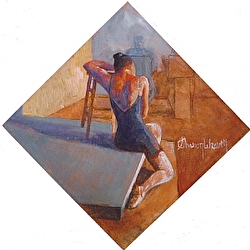 I have been teaching a lot of art classes lately and have started a series of tutorials. This one is about Drawing the Figure.
To see the entire tutorial click on the title below.
In my teens I left home to attend an art college. Not very worldly or experiences, I was pretty shocked at my first figure drawing class. I noticed that many of the students tried to be casual but I think we were all pretty embarrassed by the nude male model. I tried to be mature and understand that throughout history figure drawing has been an essential part of an artist's training. I am glad that I was able to overcome my initial reaction because the hours I spent in that class where invaluable. Drawing gestures, comparing proportions and improving my observational skills all contributed to my growth as an artist.
(click here for the entire tutorial.....)
Comment on or Share this Article →