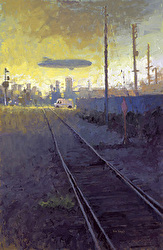 Zepplin Over Burbank by William Wray
One of the many things I love about local art clubs is the wonderful demonstrations that they have at the monthly meetings. This last Tuesday the San Fernando Valley Art Club had artist William Wray for the demonstrator. William is known for his urban landscapes that push composition, shapes and color into near abstraction.
He was nice enough to hand out printed information that gave everyone an inside view into his thought process. When deciding on a scene to paint first he asks a lot of questions and these questions will also help you to make the right choices. Here are things to ask before you start to paint.
1) Why do you want to paint the scene?
2) What emotional response does the subject give you?
3) What are the dominant design elements and how can you strengthen them?
4) Is your view too complicated? If so, can you make it a simple, strong design?
5) Does your subject have too many problems to solve to reduce it to a simple design? If so, try a simpler subject.
Once you have answered these questions and evaluated your composition, do a thumb nail sketch to help you refine and define the subject. Using photo software, William will also push the colors to be more intense and look for two complements to use for the main areas of color. By cropping the subject, he will hone in on the center of interest, reduce details and organize the image into a simple, clear view. During this process he will also focus on the "target" with supporting shapes that frame the center of interest.
Finally it is time to start painting! William uses inexpensive house painting brushes to block in the large shapes. He keeps it simple, colorful and uses lots of paint, even in the initial block in. On his second pass, I was fascinated to watch him use his palette knife to play with the edges, refining, mixing together and never keeping perfectly straight lines, even on the buildings. He told us that he likes to let the painting dry and then work over the dry paint with other colors and values. He often uses washes that allow some of the under color to influence the glazing color. He will usually go back in three times, each layer refining the image. A fourth and final pass is to add small details.
It was very interesting to see and have him discuss his process. Thank you to William Wray for his wonderful demonstration.
Comment on or Share this Article →