« Florence: Birth of the Renaissance | Main | Italy: Last Day »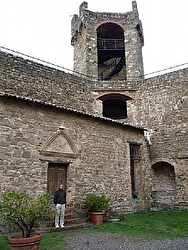 Fortezza Pienza at Montalcino





































The trip was coming to an end and there were only a few days left. We set out for another hill fortress called Montalcino, with its Fortezza Pienza, the castle fortress that is nearly intact (see top photo). It is a sleepy town with charm and history.

Next was the Renaissance town of Pienza, often described as the "ideal city." Despite our best efforts to find a 10th century church called Pieve di Corsignano we failed until after we gave up. Leaving the town we stumbled upon it. With its circular bell tower and carved doors in the early evening light it made an eerie sight.

The next day we were off to San Gimignano to the northwest. Here the towers that once dotted many Tuscan towns still stand. Originally there were over 70 towers in the city but today only 14 have survived. Though lovely, the most interesting sight in San Gimignano is the frescoes of the Duomo, La Collegiata , in the main square. From the outside it is a very uninteresting church but the walls inside are a quilt of remarkable paintings. The graphic, horrific view of hell must have scared the local population to their souls.

Only one day left. OH NO!!!!
Topics:
Italy Trip 2008
Related Posts:
Comments
1 Response to Italy: The Final Days
Marian
via web53 months ago
Hi Sharon...
I'm hoping to see some paintings soon... inspired by these beautiful places you visited!


* indicates a required field