« Rome Part 3 | Main | Tuscany »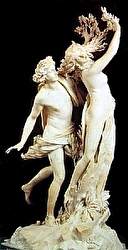 Apollo and Daphne













Piazza del Popolo

















The She Wolf of Rome











Night Falls on the Musei Capitolini


















Ruins Near the Catacombs









Along the Appian Way













Sharon and Beverly Say Goodbye to Rome



We only have a few more days in Rome and still so much to see.

The Galleria Borghese, which features many sculptures by Bernini, was recommended to us by our friends Bill and Joy. Many thanks, it was wonderful. My favorite piece by Bernini is Apollo and Daphne but his David is very impressive. His work has a movement which seems to defy the stone it is carved from. After the museum tour we walked through the surrounding park toward Piazza del Popolo and came across a lovely pond, columned buildings, fountains, and a Sienna inspired race track.

Our next stop was the Musei Capitolini were we spent the rest of the afternoon and part of the evening seeing sculptures, including the famous She wolf of Rome. As the sun set, I captured a lovely scene of the Michelangelo designed civic center from the second floor of the museum.

The next day we took to the public transportation system and headed to the Catacombs and Appian Way. Walking along this ancient thoroughfare, I felt a sense of belonging that the Italians must feel for there heritage. The roots they have are so deep and strong. It is an enviable thought, one we young bloods in the US have no reference of comparison. What would it be like to feel so attached to a place, through generations, back to the very beginning of recorded history?

The catacombs are a spooky place, filled with a musty smell of earth and human remains. The nearby ruins have room to soak in the landscape and are impressive for that space. Time seems to stand still here.

In the morning, we got our rental car and sadly said our goodbyes to Rome but were filled with anticipation for our upcoming time in Tuscany.
Topics:
Italy Trip 2008
Related Posts:
Comments