« Rome Part 2 | Main | Rome Part 4: The Final Chapter »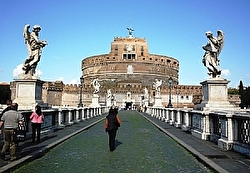 Castel Sant' Angelo














The View of St Peters from Atop the Castel




















The Pantheon


















We started out the day walking from our hotel across the Tiber to Castel Sant'Angelo, built in 120 AD as a mausoleum for Emperor Hadrian. The labyrinth of ramps, corridors, and defensive passages finally open to a courtyard and further up to a roof top view of the city of Rome. We had skipped the trek to the top of St Peters the day before because of the rain so I was pleased when we emerged to find a spectacular view with lots of sun. Looking left to the Forum and Colosseum, down at the Ponte Sant'Angelo Bridge and across to the right at St Peter Basilica makes it the best view in Rome.

From the Castel we walked through the back streets of the city. The lovely doors and narrow side streets were filled with scenes I wanted to paint.

Turning a corner we came upon the back side of the Pantheon. WOW! This is the one building that really gives you the grandeur that was ancient Rome. The huge columned porch is only overshadowed by walking through the original bronze doors. The interior is a cylinder with a lovely dome that rises up with ever smaller squares. The only light comes from the circular hole in the top of the dome. It is spectacular.

The day was coming to an end but we saw in our guide book that the Santa Maria sopra Minerva Cathedral was just around the corner so we decided to take a look. In Rome, it is a rare Gothic church with a little known Michelangelo work, Redeemer with Cross pictured above. Michelangelo sculpted the torso but an apprentice did the face, hands and feet. Though he wasn't happy with the finished piece, the patrons were and it survives in this seldom visited church.

After seeing so much, I told my fellow travelers I had seen too much beauty and my eyes couldn't take any more. After all, tomorrow is another day.
Topics:
Italy Trip 2008
Related Posts:
Comments
1 Response to Rome Part 3
Marian
via web54 months ago
As you said.... the trip of a lifetime!!

Did you notice that Terry Romero Paul got into the Blinn show too. There are so many of my friends who will be participating!! So fantastic!!
Congrats to you all!
* indicates a required field