« 2008 Plein Air San Gabriel Part 3 | Main | California Art Club Exhibition, Concertos in Color and SGFAA Plein Air Exhibit »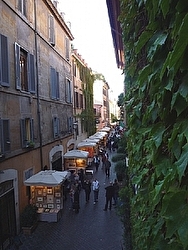 Looking Out the Window at the Art Fair

















We arrived in Rome early after taking the overnight flight to Italy. The hotel we stayed at was near the Spanish Steps, a stylish area with upscale shops, restaurants, and people, lots of people. The cab inched its way through the crowded piazza to a small side street where an art fair was going on right outside the door of our hotel. (See top photo taken from the Hotel Forti window on the second floor.) The building housed another hotel on the 5th floor and was built in 1600. The location was ideal and the staff very helpful and friendly.

We had time to walk around before dark and took advantage of the late afternoon light to walk some of the small streets and soak in the beauty of the area. (Second photo looking back at the Spanish Steps)

Continuing our walk, we were lucky enough to stumble onto a plaza where there was a very large fountain. Of course it was the Trevi Fountain, immortalized by "Three Coins in the Fountain." Jeff and I are standing in front of this beautiful landmark in photo three.

Just so you know, I took as many as 800 photos but I promise not to include all of them in my future blogs about my trip of a lifetime to Italy. After two weeks there all I can say is bella Roma e Tuscana.
Topics:
Italy Trip 2008
Related Posts:
Comments