« Receptions and Tours | Main | Bowers Museum Invitational »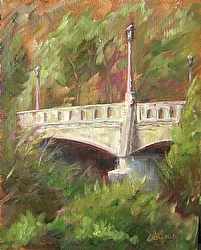 Riverside Bridge
I love painting plein air. Being outside, discovering new locations and enjoying the weather make the experience always memorable. Today, I met fellow artist Marian Fortunati at a little park along the Los Angeles River near Griffith Park. I had noticed a nearby bridge and did a scouting trip yesterday to figure out where to park and the best vantage point from which to paint.
It is amazing how nature has renewed the LA River, taking it back to a natural environment instead of a concrete bunker. There were egrets, ducks, flocks of different birds all along the river, with new vegetation sprouting up everywhere.
I have driven over this bridge many times without ever looking at it until the other day when I noticed how beautiful it is. I started with a number of sketches to help me decide how much of the bridge I wanted to paint and if the canvas should be vertical or horizontal. Then, I painted in the values. It has been over a week since I got back form Colorado and I was a little tentative at first, but the colors and scene soon had me happily painting away.
Marian, thanks for sharing this day with me.

Topics:
Plein Air Painting
Comments
2 Responses to Riverside Bridge
Kayla
via sharonweaver.com21 months ago
You know there are also wild boars under that bridge.
Sharon Weaver
via sharonweaver.com21 months ago
Are you kidding me, Kayla. I wouldn't be surprised.
* indicates a required field