« Tag Gallery Opening | Main | Victor Celebrates the Arts Part 2 »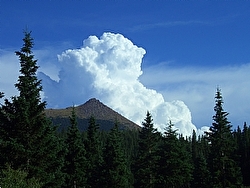 On the Road to Cripple Creek
The drive up to Cripple Creek from Colorado Springs was spectacular. I drove by sweeping vistas, jagged mountains, and cut out valleys. With Pikes Peak on my left, the turn toward Cripple Creek headed up a ridge of mountains past Mueller State Park. Up and up over 9000 feet, the drive suddenly crests a rise to reveal a lovely valley and the small mining town of Cripple Creek.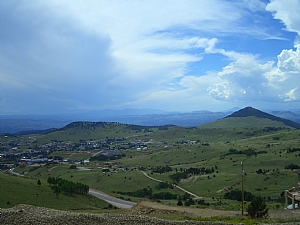 Looking Down at Cripple Creek
I was headed there to visit my friend, Nancy Mc Donald, who moved to Colorado from Los Angeles two winters ago. My second reason for traveling to this out of the way place was to participate in a plein air exhibition called
Victor Celebrates the Arts
which Nancy co-chaired this year with Kathy Stone.
I was very excited and a little nervous, since it was my first time at a plein air competition. For the next six days, I would have the opportunity to paint the local landscape, old mines and towns within a 10-mile radius of Victor. I was free to explore and paint until Friday morning, the deadline for handing in our finished paintings for the exhibit. The questions was, would I be able to produce quality paintings with the deadline looming?
View Near Victor


It was clear that with so many spectacular possible subjects, the problem would not be finding something wonderful to paint, but rather to narrow the possibilities to a workable number to complete three landscapes and one interior for the exhibit. With that objective in mind, I drove around on Saturday within the 10 mile area, figuring out what to paint.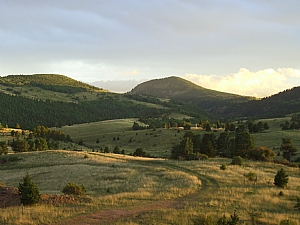 On the Road from Victor to Cripple Creek


More tomorrow.

Topics:
Plein Air in Colorado
Related Posts:
Comments
4 Responses to Victor Celebrates the Arts Part 1
Marian Fortunati
via web56 months ago
Sharon.. I'm so excited to see what you have to say about this event. The gorgeous clouds and the way the light hits the different spots in the hills promise beautiful paintings. I'm looking forward to seeing them.
Hope to see YOU soon.