« California Art Club Exhibition: Natural Beauty | Main | Hawaii Vacation »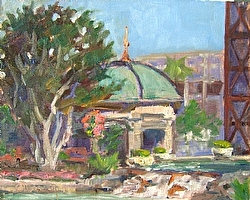 Americana Cooper Roof
Today I participated in an Art Day celebration in Glendale at the Americana at Brand. As members of Artists of the Canyon, we approached the management of this new development to do a paint out but were told it wasn't possible, only to find out a few weeks later that a paint out was scheduled for this Sunday.

I was pleased to be chosen to participate in this event and had a lot of fun painting the fountain and buildings near the square. Mingling with the other artists (about 40 took part), talking with passers by, and admiring the variety of different art styles all made for a very enjoyable morning.

Thank you, Julie Snyder, for organizing everything so beautifully. It was a great success. Julie told me she was hoping that there would be an exhibit from this day's work, but it is still in the planning stage. Maybe sometime in October.

Comments
1 Response to Paint Out at Americana at Brand
Marian Fortunati
via web57 months ago
Love this painting. Sharon, your work is really sizzling! So glad you're having fun too.
* indicates a required field