« Finding the Water | Main | Are Museums Obsolete? »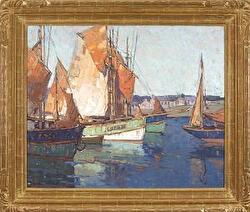 Edgar Payne
Some experiences forever change your perception of art. The Edgar Payne show at the Pasadena Museum of California Art is an example of one of these rare occasions when I am transformed. Awed by this incredible exhibition of paintings, I have come away even more convinced that composition is the single most important factor in every work of art. Each painting is a lesson in design; examples of a master painter orchestrating color, value and subject to produce images that are not only beautiful but constructed so perfectly that it is impossible to imagine them any other way. These principles can be seen even in photos of Payne's work, but what you can't see in a flat reproduction are the long deliberate brush strokes, the thick paint and the layers of colors.
Seeing how Payne first put a layer of darker blue under a lighter pink to form the highlights of the mountains gave me a glimpse into how he thought and the steps he used to achieve luminous lush colors. On close examination, I could see where he added a sunlit mountain ridge over a dark shape to design a better composition. I could image him adding this highlighted area to break up the large dark shape because the composition demanded it, not because it was there in nature.
I intend to go back to this exhibition many times during its time here in Los Angeles. I recommend that you make every effort to see this once in a lifetime exhibition. Who knows if it will ever come together again.
Topics:
Inspiration and Art
Related Posts:
Comments
4 Responses to Edgar Payne; Master of Composition
Marian Fortunati
via sharonweaver.com10 months ago
I am so glad we went. You're right. I have thought about little else since getting back and I WISH I had bought the book there instead of saving a buck to buy it elsewhere.

I too want to go back... again and again and again.