« California Art Club Critique Session: The Making of Great Art | Main | It's All Happening at the Museum: Chicano Painters of LA »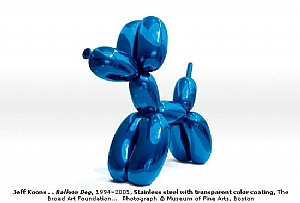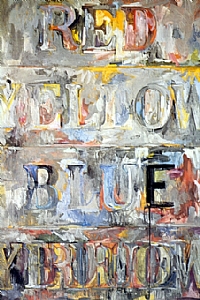 Jasper Johns

Los Angeles has been adding art museums to the city at a fast pace since I moved here in 1980. The addition of the Broad Contemporary Art Museum or BCAM at LA County Museum of Art, is the latest addition to this list.

I was not impressed with the installation of rows and rows of old style light posts that lead into the entry courtyard, but liked the mural painted old car which is roped off and warrants it's own guard. The buildings red steel and glass entry are easy to access and have a simple elegance. Take the outside escalator to the third floor.

The large galleries on the top two floors are filled with Andy Warhol, Roy Lichtenstein, Jeff Koons, Jasper Johns and many more crazy, sixties artists. It is an assault of color and form.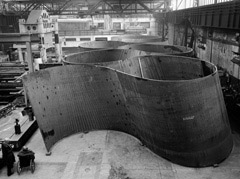 Richard Serra
Take the immense elevator down to the ground floor, as an introduction to two larger than life steel sculptures by Richard Serra. These pieces are made to walk into. I experienced one of his sculptures many years ago at the Temporary Contemporary and fell in love with his work then, but these two are even more amazing. The huge steel plates lean at unnatural angles, which is disorienting as you walk through. The rust patina of the steel reminded me of the water carved sandstone caves I visited in Utah. Walking through small openings into large spaces surrounded by the weight of these metal walls is transforming. While I was inside one of these sculptures, a family came in with two young children who spontaneously ran around the inside circular space laughing. I had the same reaction.
Comments
2 Responses to Broad Contemporary Art Musuem
karen cooper
via web58 months ago
Hey Sharon, thanks for the tour! Now I want to go, but alas, a trip to the golden state is not in my immediate future. I will put it on my 'one of these days' list!

Cooper
http://karencooperpaintings.com
Marian Fortunati
via web58 months ago
What an interesting blog! Makes me want to visit...
See you Saturday!
* indicates a required field