« San Francisco Here I Come | Main | Finding the Water »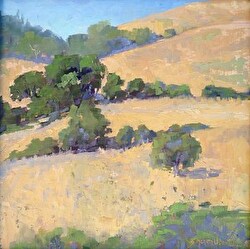 California Oaks 12x12 Available at PR Gallery and Gems, San Francisco
When you are participating in a plein air event one of the first things you are told is to stick with what works. Don't try anything new, paint what you know and stick to what people recognize. Sometimes I follow these unwritten rules, but every once in a while I just try something to test myself.
California Oaks is the result of a rebellious day when I decided to take a chance. I have painted the rolling hills of California several times in the past, but not to my satisfaction. I don't have trouble with the oak trees, it is the open fields that always seem so blank and odd in color. Are they yellow, peach, brown, purple? The contrast of the dark oaks on the light hills amplifies any flaw in the composition so every aspect of the painting must be designed.
I found a spot which had all the right elements; wonderful rolling hills, well spaced trees and interesting patterns of color. With all this going for it, I still wound up doing four different sketches. First, I tried including more of the scene, with the sky going all the way across the top third of the canvas. Too boring. Next, I tried the triangle of sky on the right top. Too much open field. Then I tried no sky. Way too much open field. Last, I tried the triangle sky on the left but I still wasn't completely satisfied. Time was ticking away so I decided to work out the rest of the composition on the canvas. This is usually a sure road to failure but I kept at it and after wiping down the canvas twice I finally worked out the finished layout. I love the final piece, California Oaks. The colors, texture and composition all come together to make this painting work.
Do I recommend trying an experiment when at a plein air event? NO. I only tried it because I already had completed several good paintings and this once it worked out well for me.
Topics:
Plein Air Painting
Related Posts:
Comments
4 Responses to Rebel with a Cause
Sharon Weaver
via sharonweaver.com10 months ago
I am not sure that I am always trying new things but I do try to keep testing my skills. Another new adventure starts this week when I start teaching. As a professor teaching a Plein Air class and also the Figure in the Environment at the Los Angeles Academy of Figurative Art, I expect I will learn as much as the students.