« Teaching the Art of Plein Air | Main | Day Tripping »
Surf's Up 11x14 Painted at the Carmel Art Festival
I have been busy. The 2012 Carmel Art Festival was a few weeks ago and next week I am off to paint at the Los Gatos Plein Air. This past weekend I did two demonstrations, one for the open house at the Los Angeles Academy of Figurative Art and the second for the Loma Linda Art Association. No excuse for not blogging but sometimes there just doesn't seem to be any extra time. I have several paintings that I need to talk about but this post is just a quick good news blast.
The best new thing today was opening my email to find that a previous client bought a second painting of mine from my website. "Misty Waterfall" was painted immediately after I did my first commission painting of another waterfall. In a way those two paintings where the start of my love affair with painting water and inspired me to study all the variations that water provides. I am still exploring the possibilities and suspect I will never exhaust my love of painting the ever-changing nature of water.
"Misty Waterfall" 36x24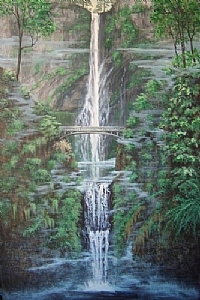 Topics:
Learning Curve
Related Posts:
Comments
3 Responses to Demos, Plein Air and More
Marian Fortunati
via sharonweaver.com11 months ago
Congratulations, Sharon!!! That is terrific... BTW I LOVE the painting you have on your main page. I don't remember seeing it before, but even if I have, it's GREAT!!

I hope to see you tonight.