« Why Am I Painting This? | Main | Larger Than Life »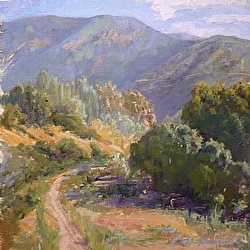 Trail to Echo Mountain 12x12 Oil Showing this weekend at Art Matters Encore! at the Huntington Library and Gardens
Perhaps you have noticed that I did not blog this past week. Sorry, but I downloaded a virus on Tuesday and just got my computer back yesterday. Luckily for me I didn't lose any data but I now find myself behind in my schedule because of this snafu. My smart phone allowed me to keep current with my email, but I missed the routine and convenience of getting on the computer. All my reference photos are filed on it so I couldn't work in the studio on a larger painting and I fell into a funk.
This last week has me thinking, what did I do before the computer? How did I survive and how did I paint. What did I use for reference? When I think of getting prints made and working from a photo again I am daunted by the lack of input. The computer allows me to switch back and forth from one image to another to get different lighting and color variations. If I am stuck on a passage, I can reference other paintings for clues about solving the problem. Not having it brought home how much I depend on this tool for my inspiration and maintaining a productive attitude. We often talk about how our computers are a black hole that eats up time, but after 5 days without mine, I realize it has become an invaluable part of how I make art. My productivity and my computer are integrated to the point that my work suffered terribly without it and progress was very slow. Is the health of my creativity linked to the health of my computer? Probably not but I am glad to have both back at 100% again.
Topics:
Learning Curve
Related Posts:
Comments
3 Responses to Computer Crashes and the Week that Was
Marian Fortunati
via sharonweaver.com12 months ago
Oh I can SOOOOO identify!!! I'm glad you're back up and running!

I guess computers can be sort of compared to our men... sometimes you can't live WITH them but more often you can't live WITHOUT them.

Be well... Happy painting!