« Painting A Waterfall | Main | Computer Crashes and the Week that Was »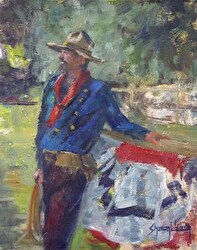 All Hat and No Cattle 10x8 Oil
Have you ever been painting away and you suddenly realize that you have lost sight of why you are painting this particular thing? I know this has happened to me. I get so involved in painting the stuff around the subject that I forget to keep my attention focused. The initial attraction has slowly slipped into the background and the most important areas are taking a backseat to things I barely noticed when I first saw the subject. Important Rule to Remember: Stay focused on what first attracted you.
A good example is my painting All Hat and No Cattle. When I first saw the cowboy I was attracted to his hat. I thought it was a great shape and liked the colors and values. It would have been so easy to meander to the flag and add too much detail or worry the corral and background into focus but I focused on the hat. The simple idea of remembering what first attracted me to paint the cowboy kept me on track. If you don't remember what is important in your painting how will the viewer be able to see it? You have to lead the viewer with your intent and paint with a focal point.
Painted during the California Art Club paint out on the lawn of the Autry Museum with lots of different models and over 50 artists.
Topics:
Learning Curve
Related Posts:
Comments
2 Responses to Why Am I Painting This?
Marian Fortunati
via sharonweaver.com13 months ago
Wasn't this a terrific day?? It was so much fun to see so many great artists painting together at the Autry. The weather was perfect and Chuck did a great job organizing all of the models in their wonderful period pieces.

I love the title of your post... I first heard it when reading Jack White's blog... I like the expression and what it means.
Sharon Weaver
via sharonweaver.com13 months ago
It was a fantastic day. What a great experience. Jeff came up with the title and I thought it was perfect. Now that you mention it, I am sure I read it in one of Jack white's post too.
* indicates a required field