« Welcome Committee | Main | Painting A Waterfall »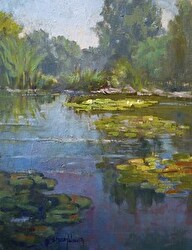 Lily Pond Afternoon
Lily Pond Afternoon 14x11 $700
Is it important to study the old masters? I think so and here is why. There are reasons why the old masters are considered masters. They have already figured it out. The common denominator in all great works of art, irregardless of medium, materials or technique is that they all have great design. Underlying all old master paintings is a consistent collection of basic visual truths and design principles. They have worked things out to perfection and we can learn so much from studying the old masters. So why do so few artists understand this? I'm not sure except that maybe it is just too obvious and therefore dismissed as too easy an answer. Taking inspiration from the masters is a sure way to learn and grow. I am not talking about copying a painting but instead taking note of how another artist approaches a given subject. The composition, design and color balance are all there to study in paintings by master artists. You only need to take the lesson and apply it with your interpretation.
For example, last week I had the opportunity to paint at the Huntington Library which is a labyrinth of beautiful and diverse gardens. Japanese, Australian, Chinese and the Desert Gardens are only a few of the many environments you can visit while at the Huntington but my favorite is the Lily Pond Garden. So when I was granted access to the gardens, I immediately thought of Monet's amazing paintings. Taking the time to once again look at a few images, I could imagine Monet standing next to me as I painted this lily pond. Inspired by Monet, I could visualize the finished painting before I even started. I drew from my minds eye the harmony of color, the strong design and the fresh brush work.
Paint from life. Live to paint.
Topics:
Inspiration and Art
Related Posts:
Comments
2 Responses to Channeling Monet
Marian Fortunati
via sharonweaver.com13 months ago
Well done, Sharon. Well said, too!
Sharon Weaver
via sharonweaver.com13 months ago
Thanks Marian. I had a great time painting at the Huntington and at the Autry with the CAC. Good week of painting.
* indicates a required field