« Auction of Western Art Sets Records | Main | Channeling Monet »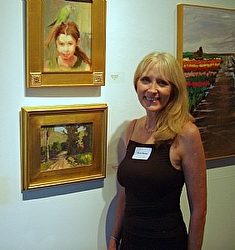 Sharon Weaver at one of her first exhibitions in 2008
I volunteer for several local art clubs in different degress. I made the decision last year to stay involved with these local organizations because I want to give back some of the kindness and information that I learned when I was a newbee member. Over the years, I have learned so much through the demonstrations and other artists in these groups that it seemed the right thing to do.
As a volunteer, I was recently asked to make some phone calls to new members of the California Art Club welcoming them into the club. In the process of letting them know what the club can do for them, I often get into personal discussions with each artist. One of the new members I talked to lives in an area where there are no local clubs. As we talked, I realized how desperate she was to find someplace where she could learn. I had a new appreciation of how lucky I was to have so many wonderful clubs in my area. The ease with which I jumped into the art community is a direct result of the clubs I joined when I first started to paint. Since we are all motivated by self interest, here are some wonderful reasons to get involved with a local art organization.
Learning something new. Is it just me or does it seem the more I know the more I need to know? Every meeting, paint out or demonstration adds to my arsenal of artistic weapons.
Meet wonderful artists, friends and painting partners. I have an amazing network of painting buddies, many of whom I have met through the local clubs.
If you teach, there is a built in group of potential students.
You can cultivate potential collectors. Don't overlook the fact that artists love to buy art.
Most clubs will have at least one show a year so this is another opportunity to get your work out there.
Learn how to enter juried shows, get tips on great frame suppliers, find out about a studio tour, the list of things you can learn are endless.
All you need to do is take the time to get involved.
Paint from life, live to paint.
Topics:
Learning Curve
Related Posts:
Comments
6 Responses to Welcome Committee
Nancy
via sharonweaver.com13 months ago
How nice that you volunteer to phone new members. I think that is so important to make the new member feel welcome and that they are noticed, a validation of sorts. A lot of different organizations could learn from this initiative. I think people often drop out of an groups because no one, after the first meeting, makes them feel welcome.