« How to Paint Water | Main | Divine Dissatisfaction »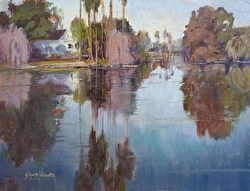 Arboretum Reflections 11x14 Oil
Last night I demonstrated for the San Fernando Valley Art Club. I have a soft spot for the club since it was the first art club I joined five years ago. Thinking back, it is amazing how much I didn't know about the world of art. I was so green I didn't know what I didn't know. Five years later, I am forever grateful to the generosity of all the members, the support I have gotten and all the instruction from the many demonstrating artists.
You could say I have come full circle since I am now the one giving the demo, hoping to inspire and help other artists. Afterward, I was thrilled with all the questions, kind words and enthusiasm from the group.
Following are the first two stages of the painting I used for the demonstration. The finished painting called Arboretum Reflections (shown above) is for sale at Fine Art and Antique on Lake in Pasadena.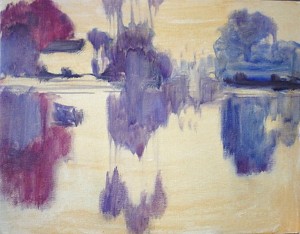 Blocking in the Shapes
Working out the composition is the most important starting step. Without a good, strong composition the painting can never succeed. Decide what you are painting; the water, the trees? Make the commitment with the positioning of the horizon line.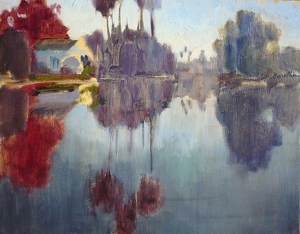 Establishing the Relationship between the Sky and Water
Water is almost always darker than the sky, so it is essential to establish the relationship between these two areas. Remember to first paint the depth of the water with vertical brushstrokes. This will give the water dimension. Wait to paint the water surface until after you have painted all the other shapes. Only then go back and paint the surface of the water.
Later this month on April 17, I will be doing another demonstration for the Bellflower Art Association at Thompson Park, 14000 Bellflower Blvd., Bellflower, CA from 6 PM to 8:30PM. For more information Contact Sharon or call Charlene Mueller at 562-633-9011.
Topics:
Artist Demo
Related Posts:
Comments
2 Responses to Painting Water Reflections
Susan Gutting
via sharonweaver.com13 months ago
Great article, beautiful painting.

Sharon Weaver
via sharonweaver.com13 months ago
Thank you Susan.

* indicates a required field