« The Lone Tree Syndrome | Main | Is Bigger Better? »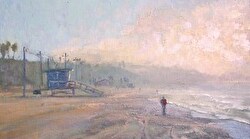 Sun Breaks Through at Zuma Beach
Sun Breaks Through at Zuma Beach, 7x14, Oil on Panel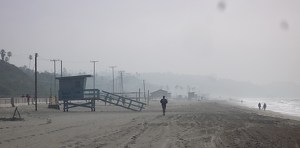 Zuma Beach in the Fog
Sometimes the weather just doesn't coöperate with my painting schedule. When that happens I improvise, invent and generally struggle to turn a dreary day into one that is beautiful. That was the situation last week when I drove over to the ocean and took the photo above along Zuma Beach. My job description for the day was to turn that yukkie place into something magical. Initially the fog was so thick I wasn't sure the sun would ever emerge but right on cue the sun did peek out and hit the front of the lifeguard stand.
Painting a foggy or moody scene requires a consistent use of one color throughout the painting. As an artist who loves color, I sometimes have trouble with this idea so I tackled the Zuna Beach painting as a challenge. I decided on green for the constant throughout my painting so every color I used has a touch of the ocean green mixed into it. From the sand to the sky, I forced myself to add some of that color. The distant mountains are that same color with more white and a touch more blue. Even the sand has a lot of green but I just can't stay monotone throughout a painting. Just not my nature so thought I would find an example that takes this idea to the extreme and I remembered a painting by Brian Blood at the Carmel Art Festival 2009. My photo is not very good but I think it still is a wonderful example of this use of color consistency throughout a painting.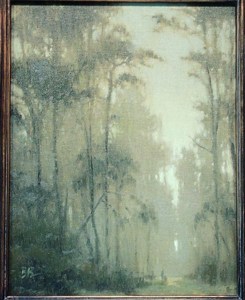 by Brian Blood
Topics:
Learning Curve
Related Posts:
Comments
4 Responses to Finding the Light on a Dark Day
Marian Fortunati
via sharonweaver.com14 months ago
Hope you had fun last week at Zuma. You always manage to pull out the great scenes even from dismal days.
Using Brian's work as an example was a great idea. His work is absolutely masterful.

Hope to see you soon.