« Self Portrait | Main | Self Portrait »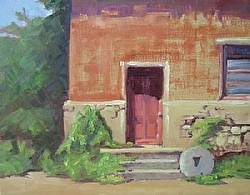 Faded Door
I GOT IN!!!!!
Faded Door was accepted by the California Art Club for the upcoming CAC Exhibition at the Women's City Club of Pasadena. I am very happy and excited to be among the artists to be juried into the show. It is a great honor to hang next to the exceptionally talented patron members who were selected. I am overwhelmed. WOW!
The show starts on June 23, 2008 to November 26, 2008 and the artist reception is July 12, 2008 at the Women's City Club, 160 N. Oakland Ave, Pasadena, CA. All the details will be listed in my Event and Galleries Files and I will have more to say about the show in future blogs.
Topics:
California Art Club
Related Posts:
Comments
2 Responses to California Art Club Exhibition
Nicole Hyde
via web60 months ago
Congrats!
Marian Fortunati
via web60 months ago
Yippppeeee!!
I'm so happy you're in! In my latest post I said that you and Laura and Ying are in too.

CONGRATULATIONS, SHARON!
* indicates a required field