« Out of the Blue | Main | Sometimes You Have to Fold »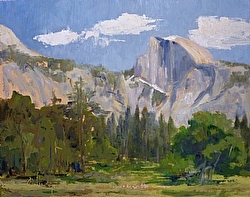 Shadow on Half Dome
Shadow on Half Dome 11x14 Showing at "Iconic California" at the Altadena Town & Country Club in Pasadena, CA
I just received my first rejection letter for 2012, so this week has been one of extremes. Monday, I was way up (see my last blog "Out of the Blue") and on Tuesday, the rejection letter. Of course, this isn't the first one I have ever gotten nor will it be the last and no matter how nicely they phrase the rejection, it still hurts. So how to deal with rejection. There is no easy answer when an artist's fragile ego is involved but there are steps to take when that dreaded form letter comes. Here are a few things I remember:
It isn't personal. There are many factors which can lead to a rejection. Every judge has their own individual criteria which influences their choices. The judging process is very subjective and doesn't confirm that you don't have talent, it just means they liked other pieces more.
Don't place too much importance on any one event, show or club. Keeping your art life balanced is very important. Take satisfaction from a variety of sources so when (note I didn't say if) a rejection comes it isn't devastating.
Don't do yourself in by rehashing all your past failures. We all have them, but they are history so forget it and move on.
Review your successes and focus on your strengths. It is always a good idea to stay positive so do this often.
You can learn from a rejection. A serious evaluation of your entries may lead you to understand why you were rejected and how to improve your chances in the future.
Like the song says : Que Sera, Sera (Whatever Will Be, Will Be). Rejection goes with the territory. If your fear of rejection takes over, you have a big problem, so take a deep breath and relax.
Keep things in perspective. One rejection isn't that important. Just because you were rejected by one judge doesn't mean that tomorrow you won't get that acceptance letter from another show, gallery or event.
Think of all the other artist who received that same rejection letter. You are not the only one. There is some consolation in numbers and we all take satisfaction in knowing that others are in the same situation.
Get back on the horse and create. There is no better way to leave a rejection in the dust than to get up and create something new and amazing.
Today, after getting this rejection, I applied to another national show. I am optimistic that the next envelop will contain an acceptance letter. May all your letters be fat with acceptance and remember to:

Paint from life; live to paint.
Topics:
Inspiration and Art
Related Posts:
Comments
5 Responses to Into the Depths
Marian Fortunati
via sharonweaver.com16 months ago
Well said, Sharon...
I know you've had many many acceptances... so on the whole, despite the disappointment of this recent event, you are in VERY POSITIVE territory.

See you soon, my friend..... missed you today.