« A New Star is Born | Main | Dramatic Light »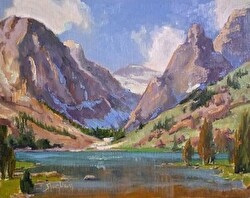 High Sierra Snow
Starting the new year off with a bang, I will have five paintings at the upcoming California Art Club exhibition called "Iconic California." I can't think of a better way to inaugurate the new year than with a celebration of our wonderful state, California. Yosemite, the Kern River, and the Eastern Sierras are only a few of the places that will be represented in the show. Come to the Altadena Town & Country Club at 2290 Country Club Drive in Pasadena. The reception is on Sunday, January 29 from 4-6 PM. Seeing all the varied and creative interpretations by all the talented artists of the CAC will be a treat you won't want to miss.
| | |
| --- | --- |
| | I am tackling several new marketing ideas which I have read about from other artists. First on my list is having more paintings in more venues. Starting off the year with this show puts me ahead of last year and I am looking forward to many other events. I will do my best to inspire and touch your imagination. I hope you have a successful, exciting and interesting year. |
Topics:
Exhibitions
Related Posts:
Comments
2 Responses to Iconic California
Marian Fortunati
via sharonweaver.com16 months ago
This is an absolutely GORGEOUS painting, Sharon!!! Love it. I imagine it will earn a red dot soon.

Was at Segil today. I'll see you sometime soon, I hope!
Sharon Weaver
via sharonweaver.com16 months ago
Thanks Marian. I hope you are right because it is one of my favorites too.
* indicates a required field