« Past, Present and Future | Main | A New Star is Born »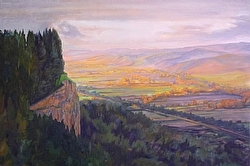 Umbria Autumn
Recently I tried to do a slide show from a tutorial on Empty Easel but no matter what I did it never worked. Frustrated I started to experiment with my own photo application and realized that I could make a video using my stills so it comes out looking like a slide show. I downloaded it to my other blog first and it works. I am not sure if it will work on my FASO blog so if it doesn't work here try this link to
The Process
.
I painted Umbria Autumn in 2009 but recently reworked a section of the painting and eliminated the wall on the left. I took a series of photos as I worked on the painting and it makes for an interesting insight into my process.
There are twelve images shown in the slide show as follows:
1) Pencil Sketch - I like to do an initial sketch of a painting to help me spot design problems and to better understand the composition.
2) Initial Layout on the Canvas - I do a line drawing first in one color but this is a little farther into the painting with the sky already painted in.
3) Adding Color and Value - The depth of the painting is worked out with the values.
4) Working in the Background Hills - Here the richness of the colors are developed.
5) Completing the Foreground - The scale of the scene is established with the foreground.
6) Adding the Details - Getting the richness of the autumn landscape.
7) Refining the Details - Final touches to the mid-ground.

At this point I thought I was finished and had the painting hung in my studio. Over the next year, I started to realize that something was bothering me about the composition. I didn't like the brick wall on the left side of the painting and started to work on solutions. The next four images are different ideas I tried out on my computer using Gimp (free version of PhotoShop) even before I attempted to take brush to canvas.


8) Replacing the Wall with Trees - The foreground became to dominant in this version.
9) Extending the Cliff - This one seemed to only replace one problem (the walls) with another (the dominant cliff).
10) Extending the Horizon - Everything pointed right of the left side in this one.
11) Combination of 8, 9, and 10 - I finally decided that this was the best way to resolve the painting and made the changes to the actual painting.

I am much happier with the latest version of the painting and hope you agree.
Topics:
Learning Curve
Related Posts:
Comments