« Is Buying Art a Disease? | Main | Past, Present and Future »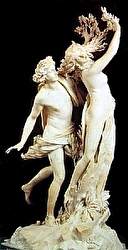 Apollo & Daphne statue by Gian Lorenzo Bernini
Imagination is amazing. It is an intangible thing but it manifests itself all around me. Someone designed practically everything I use and see. That desk, the computer, even the office I am sitting in all started with an idea. Someone first imagined it before it became reality. With so many artificial objects in my live, it isn't often that something jumps out at me and stops me in my tracks and says, "Look here. I'm beautiful." The last time this happened, I stopped the car to take a photo of an old yellow truck parked on the street around the corner from me. I was impressed with the sweeping fenders, extravagant front grill and decorative hood ornament. Someone designed this amazing machine to be mass-produced and to take you from point A to point B. Wow!
Maybe because of the holidays and looking for gifts to buy, I started thinking about that beautiful old truck and making some comparisons. I looked around at the latest gadgets that I had bought. They seemed blank, unimaginative, boring. I looked at the apartment building being built down the street and thought it looked like a glorified storage unit. I thought, "When was the last time my imagination was tickled by something new?" Todays products are designed to be invisible. They are geared to provide a service and be useful but not beautiful. Where is the passion for beauty in design that once was the hallmark of American ingenuity? Where is the imagination in design instead of just producing something cheap? Form can follow function and still be beautiful.
My thoughts made me realize that as artists, we have a unique opportunity to produce objects that are designed just for the sake of beauty. How amazing to make something with only the idea of producing something inspiring, an object of beauty for beauty's sake. Artists could be the last stronghold to preserve the concept of beauty.
Love the paint.
Topics:
Inspiration and Art
Related Posts:
Comments
8 Responses to Beauty for Beauty's Sake
Rick Rotante
via sharonweaver.com17 months ago
Name: Rick Rotante
Comment:
The difficulty of beauty for beauty''s sake is determining the definition of beauty and what is considered beautiful. When we make something we consider beautiful we run into the problem as to what is actually beautiful. Are we not imposing beauty onto this thing. It''s the same problem as trying to get a consensus on the question as to what is art. Humankind is so varied and unique while their experiences so multiple, what one finds beautiful, another may merely consider...just nice. Of course there is general agreement on many tings beautiful, but doesn''t that limit the field? Especially for artist''s
Consider the expression - "a face only a mother can love!"
We, as artists, can only portray things we find beautiful and hope to find a consensus.
Is it even possible to paint without regard to inherent beauty at all?
The more important issue for me is to not make a judgment on beauty and paint with an open mind. If that is at all possible.