« Colors of Fall | Main | Different Strokes »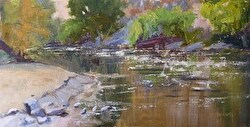 Along the Kern River
Along the Kern River was painted on my recent road trip to Kernville, CA.
As crazy as it may seem most of the applications for 2012 plein air competitions are due before the end of the year. Consequently I have been organizing my entries and working on my schedule. I am always amazed at how time-consuming it is to complete all the different applications. Every event has its own list of criteria and different checklists. Some I can enter online while others I have to snail mail a DVD with images; some ask for cover letters, another wants a 500 work bio. And of course, every one has a different requirement for the size of the images.
I realize that there is not one definitive way to do this but it sure would make it a lot easier if everyone got together and decided on a standard for this stuff. The only way I can keep it all organized is to create a folder for each event with the size adjusted images, applications and event schedule all together. Some of the plein air organizers are now using websites that are designed specifically for art competitions. I do like this solution but I fear the added cost of this service is passed on to the artist through higher submission fees.
I can never hope to predict which plein air competition I will be juried into for next year so I've decided to increase the number of applications. Along with all the paper work, I will also be incurring a ton of new application fees. I hate to do this at the end of the year but like I said at the start, deadlines are soon. Deciding which competition to enter is also tricky since predicting which ones will be profitable is another factor. You must be wondering why I go through all this? That's easy. Because I love painting plein air.
Have a Happy Thanksgiving.
Topics:
Plein Air Painting
Related Posts:
Comments
2 Responses to Planning for 2012 Plein Air Events
Marian Fortunati
via sharonweaver.com18 months ago
Did I mention that I absolutely LOVE this painting???
I may just move some of the others over from my favorites to make room for this one!!
Missed you today.
Sharon Weaver
via sharonweaver.com18 months ago
Thanks Marian. Sorry I didn't make it.
* indicates a required field